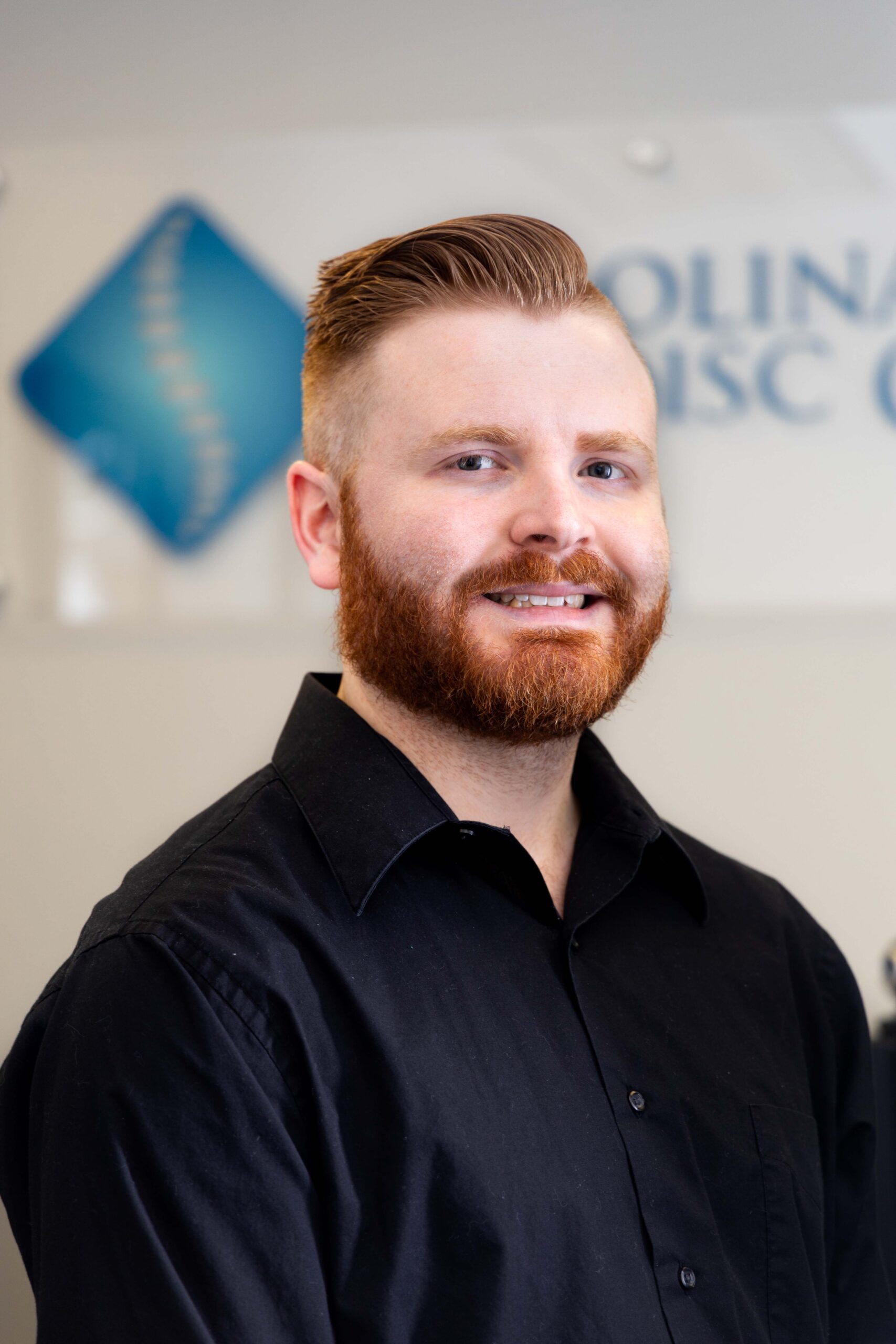 Dr. Tyler Smith, PT, DPT, CIDN
ABOUT ME
Dr. Tyler Smith, PT, DPT, CIDN brings a variety of experience to Carolina Spine and Disc Center. Tyler grew up in Marietta, Ohio then received an undergraduate degree of Pre-Physical Therapy at Bob Jones University in Greenville, SC. Thereafter, he earned his Doctor of Physical Therapy degree at Campbell University in Buies Creek, NC. Moreover, he became a Certified Integrative Dry Needling practitioner after his time in Buies Creek. 
Dr. Smith has spent much time here at Carolina Spine and Disc Center helping patients get back on their feet and resume active healthy lifestyles. Also, he is an active member of the American Physical Therapy Association and the North Carolina Physical Therapy Association. Furthermore, Dr. Smith receives much satisfaction from treating patients and seeing them improve their quality of life through spinal decompression, physical therapy, and dry needling.
Dr. Smith and his wife Hannah have been residents of North Carolina for several years. They currently live in Clayton with their baby daughter. In addition to spending time with his wife and daughter, Dr. Smith enjoys going to the beach and fitness at his local gym.
ABOUT ME
Hannah was born and raised in Northern Maine and moved to NC in 2014. Hannah and Dr. Smith got married in August 2015. She is an RN and graduated from nursing school in 2019. She values connection with patients and is eager to see them improve. She gave birth to their first child, a daughter, in April 2021. In her spare time, she enjoys going for walks, amateur gardening, and hanging out with her family.
---
ABOUT ME
From Louisburg, NC, our PTA Amy has been a PTA for 16 years. She has been working here at Carolina Spine for going on 5 years. She first received her bachelor's degree from Peace College, then attended Nash Community college for her PTA schooling. She is married with two children, one boy, and one girl, both of whom she loves dearly. She loves dancing, going to the beach, and spending time with her family.
---
ABOUT ME
Ledena brings 4 years of physical therapy experience. Originally from New York, she graduated from the University of Buffalo with a bachelor of arts in Communication and Art. From there, Ledena went back to school to become a PTA at Central Pennsylvania College where she graduated summa cum laude in 2017. She is married with two girls, who loves going on outings. She also loves reading, movies, board games, and is really big into sports.
---
ABOUT ME
From Richmond, Virginia, Rachel has been a PT tech for 3 years. She went to school briefly at VCU before getting her certification to teach ESL and traveling around Mexico before returning to the states and moving to the Raleigh area. She loves being able to help people with a cheery attitude so that everyone feels welcome. She loves reading on the beach, volleyball, tattoos, going to comic cons, and lots of other nerdy things.
---
ABOUT ME
Monica is the Front Desk Receptionist for Carolina Spine and Disc Center and likes to be able to interact with the patients. She looks at each day as an opportunity to learn something new and exciting. Patients and co-workers know they can ask Monica anything and she will always be willing to solve whatever problem is put before her. In her free time, Monica enjoys working out and spending time with her husband and little pooch.
---